At EdReports, we know that instructional materials make a difference for students. What is chosen matters. And the impact of COVID-19 on schools over the past two years has shown that having—and in many cases not having—high-quality materials affects how coherent, connected, and constructive a student's day-to-day learning experience can be.
Before the pandemic reached our shores, EdReports had already been deeply examining the user experience of visitors to our website. But the need for a more robust and responsive online experience was amplified as states and districts began investing federal stimulus dollars into new instructional materials as a means to accelerate learning for students.
That's why our journey to reimagine EdReports.org is starting with a fresh new take on our Reports Center. After speaking with active users of our website and those involved in selecting materials, we heard loud and clear that educators need more ways to drill down into key standards. They wanted more options when comparing materials, and they were interested in seeing a wider variety of indicators of quality, such as how a program addresses technology or supports teachers and students to use the materials. These options are now available for nearly a thousand free reviews of comprehensive math, English language arts, and science products. 

Since 2015, EdReports has established a track record of being a credible and accessible source of independent information. We're proud to launch our new Reports Center as the first stage in a broader initiative to improve EdReports.org. You can expect new and exciting features to premier throughout the year that better connect the data in our comprehensive reviews to the plethora of hands-on resources we've created to support educators to make the best curricular decisions for their students.

New Report Center Features Available Now

1. Filter with Precision: Drill Down Into Specific Standard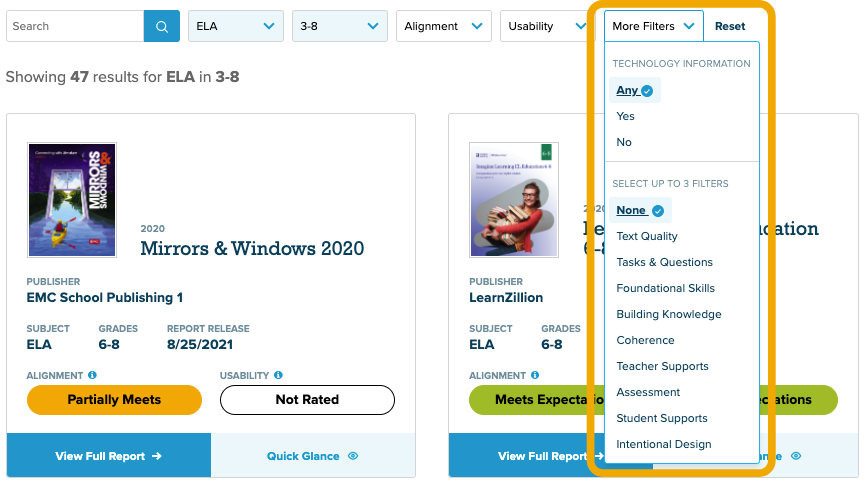 Our Reports Center has always offered the ability to access alignment information, but the latest version allows you to pinpoint and dive into filters that detail subject-specific standards. Options now include:
English Language Arts: Text Quality, Tasks & Questions, Foundational Skills, Building Knowledge, Coherence
Math: Focus, Coherence, Rigor, Math Practices
Science: 3D Learning/Assessment, Phenomena/Problems, Coherence & Scope
We know that standards alignment is rightfully a priority for districts, but educators also want information about other components of instructional materials. The new Reports Center also includes specific usability indicators such as the strength of a program's supports for teachers and students and assessment offerings. Educators will also be able to filter for vital technology information for curricula that meet expectations for alignment.

2. Compare Standards Alignment and Much More

The Compare Tool has long been the most popular feature on our website because it allows users to view multiple programs at once and have a quick snapshot of a product's quality based on standards alignment or usability. Comparing programs to one another allows educators to be strategic about their investment of time and resources and ensures deep dives are focused on programs that have already achieved a baseline of quality.
The latest iteration of our Reports Center takes the Compare Tool to the next level. It allows users to compare up to three programs at a time based on standards alignment, usability, and now subject-specific standards (such as Text Quality in ELA or Coherence in math). Compare results are presented side by side, and users can examine ratings by grade level. Our new design addresses a growing need from districts to better pinpoint strengths and weaknesses of materials. This allows educators to apply their knowledge of student needs against the gaps in materials under consideration and make the most informed decisions possible.

3. Report Details: Improved Layout for Readability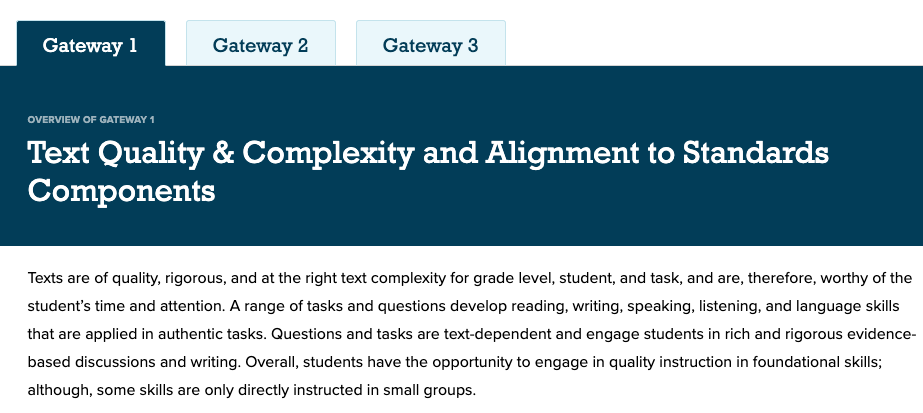 The average EdReports review takes between 4–6 months with educator reviewers dedicating at least 5–10 hours per week to evaluate materials. Final reports are evidence rich and incredibly detailed. While we believe it's critical to read through a report, we also know that the amount of information available can feel overwhelming. Our new design seeks to present information in a more digestible format.
EdReports' review criteria supports a sequential review process through three gateways, and our new design now clearly separates those gateways into organized tabs.
Gateways 1 and 2 focus on questions of standards alignment: Are the instructional materials aligned to the standards? Are all standards present and treated with appropriate depth and quality required to support student learning? Gateway 3 focuses on usability and design for materials that fully meet expectations for standards alignment.

As users scroll through reports, they can also now better associate the specific ratings for each section of a gateway. For example, while reviewing an ELA program for Text Quality, users can easily ascertain how the program performed for indicators in this category such as 1B: Materials reflect the distribution of text types and genres required by the standards at each grade level without having to scroll back up to the top of the page.


Coming Soon
We have long known that the best way to fulfill our mission is through producing best in class reviews of instructional materials. This is why we prioritized the Reports Center as the first feature of the website to redesign and launch.
But through our work with the field we know that there's also a strong need for resources and training materials to support the use of EdReports reviews during an adoption process. In the coming weeks and months, you will continue to see changes and improvements on EdReports.org that make it easier to understand the critical importance of high-quality materials, and how to apply that knowledge in local settings. Several new features to expect this year include:
User Portal: Visitors will be able to create an online account to favorite reports, save searches, and more easily share reviews with colleagues.
Reimagined Resource Center: A fresh design that makes accessing our hands-on selection guidance, educator voice stories, inspirational case studies, and leading-edge research such as our annual State of the Market report easier than ever.
Reviewer Information and Application Hub: A streamlined pathway to learn more about our reviewers, access our reviewer application process, and discover unique opportunities such as our Klawe Fellowship.
We are proud to be a trustworthy, free resource for anyone interested in learning more about the quality of K-12 instructional materials available in the market. As your school system considers its next adoption process, we hope EdReports can be the first stop on your path to choosing materials that support teachers with the content they need to help every student learn and grow.