Over the past decade, 32 states and the District of Columbia have passed new laws or policies designed to better align early literacy instruction with the science of reading. As educators continue to navigate the challenges of pandemic recovery and alarming national reading scores, it's more important than ever for districts and educators to be able to identify literacy materials that are high-quality, support all teachers in helping kids learn to read, and meet new state requirements.
While EdReports has always reviewed instructional materials for the science of reading, we're constantly working to iterate and improve on our process and respond to the needs of the field. In our conversations with educators and district leaders, we've heard loud and clear how valuable it would be to more quickly and easily see how early literacy materials measure up against the research on reading science.
That's why we're excited to announce several new updates to our Reports Center that better connect the wealth of information in our English language arts (ELA) reviews to today's district and educator needs. Highlights include a Science of Reading Snapshot for every K–5 ELA report and increased clarity around the different formats of ELA materials that EdReports reviews.
At EdReports, we're proud of our track record as a credible and accessible source of independent information and we're committed to continuous learning, growth, and improvement of our reviews. We offer these updates in that spirit, combined with a dedication to providing educators with the tools they need to help every student thrive in literacy throughout their K–12 journey and beyond.
Science of Reading Snapshots
We've added a new Science of Reading Snapshot for every K–5 ELA program we've reviewed, summarizing how it performs against five key components of reading instruction: phonemic awareness, phonics, fluency, vocabulary, and comprehension.
You can access the Snapshots in the Reports Center via the "Science of Reading" button in each report's summary view, and via the same button at the top of the full report page: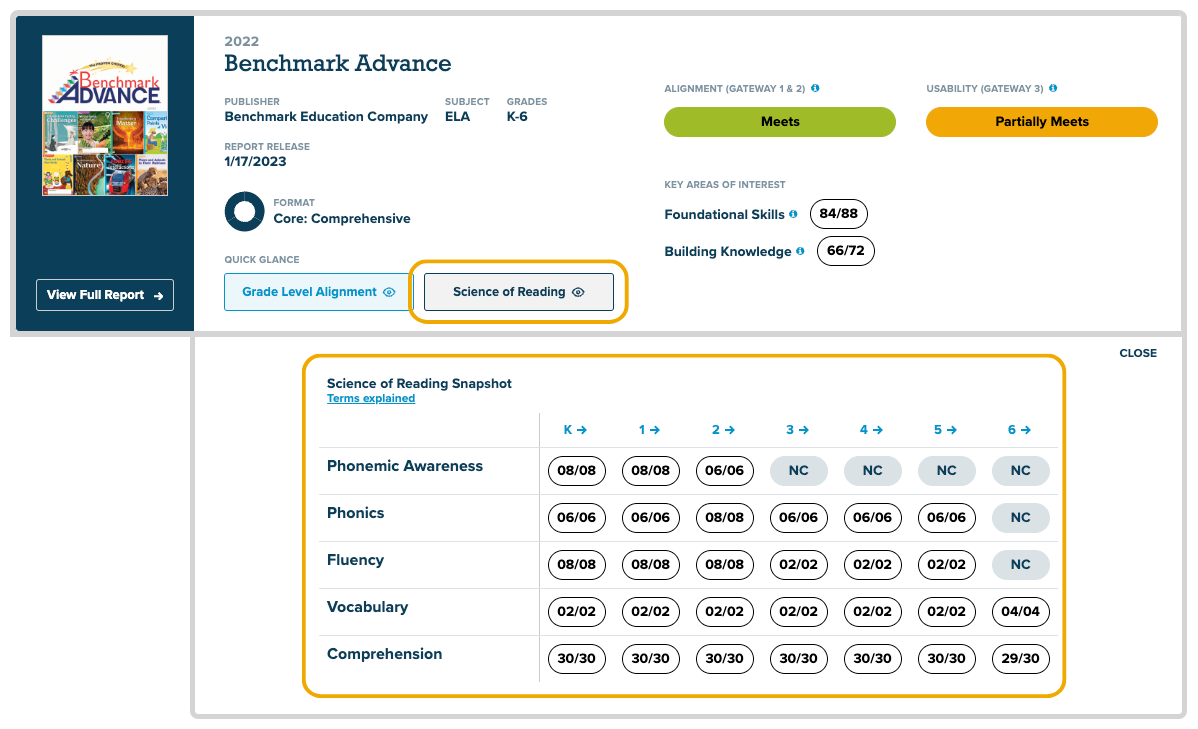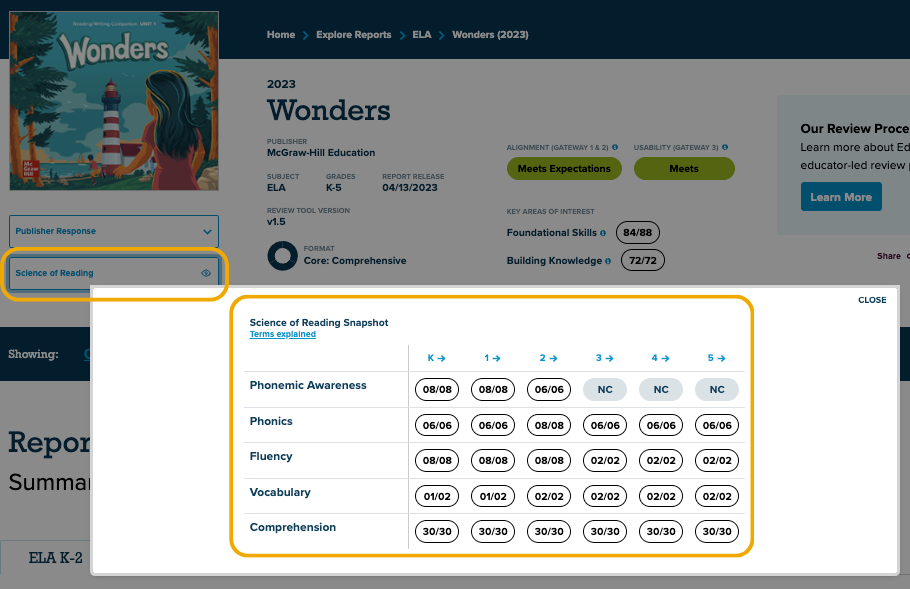 These five components correspond to the 2000 National Reading Panel's five key concepts for literacy instruction, which is the main source for many recently-passed state laws. By highlighting these components, EdReports aims to better meet the needs of the field to identify early literacy materials that are both high-quality and meet legislative requirements.
The scores for each science of reading component are aggregated from multiple indicators across EdReports' ELA review tools. Each component has a different maximum score based on the type of product reviewed (e.g. Core: Comprehensive vs Foundational Skills Supplement). For more information, please see our Science of Reading Snapshots Scoring Guide.
Guide to ELA program formats
EdReports reviews three distinct formats of elementary ELA materials, all of which are displayed together in a single "Early Literacy" view. This allows you to see which products fall under which format, understand the differences between the formats, and compare products across all three categories.
Note that the dropdown option is titled "Early Literacy (K–2)," meaning that the selection of reports will include any ELA program that covers the K–2 grade band—e.g., K–2, K–5, K–6, K–8, etc.

The box shown at the top of the Reports Center defines the three formats:

The differences between formats come down to which ELA components each is designed to deliver:
Core: Comprehensive materials claim to deliver all grade-level ELA components (foundational skills, language and vocabulary, reading comprehension, speaking and listening, writing)
Core: No Foundational Skills materials claim to deliver all ELA components except foundational skills. They're designed to be paired with a Foundational Skills Supplement.
Foundational Skills Supplements claim to deliver exclusively foundational skills standards, covering print concepts, phonological and phonemic awareness, phonics and word recognition, and fluency. They're designed to be paired with a Core: No Foundational Skills program.
Note that these ELA components are distinct from the science of reading components referenced in the Snapshot section, above. The term "ELA components" covers standards across all of ELA: reading, writing, speaking and listening, etc. Meanwhile, the science of reading components focus exclusively on certain aspects of reading standards (including foundational skills).
Updates to key terms: Not Claimed and Not Eligible
This round of website updates also sees two acronyms used widely: NC for not claimed, and NE for not eligible.

NC: Not Claimed
This means that the publisher does not claim to cover the component or standard in question. For example, a Foundational Skills Supplement will always show "NC" for comprehension and vocabulary because, while they are both science of reading components, they're not typically considered to be components of foundational skills.
Similarly, a Core: No Foundational Skills program will always show "NC" for phonemic awareness, phonics, and fluency because these are foundational skills components which by definition this program format does not claim to cover.

NE: Not Eligible
This means that EdReports did not review the program against the gateway in question because it didn't pass the threshold for review. In other words, it didn't meet our criteria in the previous gateway, at which point the review process ended. For example, if a program did not meet expectations for alignment in gateway 1, we will show NE for gateways 2 and 3.
Explore the updates
These updates are all live in the Reports Center now. We'd love to hear what you think, how these updates impact your materials adoption process, and what other options or features would be useful to you—send a message to communications@edreports.org to let us know. You can also join our email list to stay updated on all the latest reports of K–12 instructional materials, resources, and future website updates.